A Comparative Study of the Causes of the Overthrow of Dr Kwame Nkrumah and the Militarisation of Ghanaian Politics and its impacts on Nkrumahism
*Asante Fordjour
Till today, dissenting political theorists and commentators have propounded various theses on the leadership of Osagyefo Dr Kwame Nkrumah, who while on peace mission in faraway Vietnam, was deposed in a coup by some members of the Ghana Armed Forces and the Police on 24 February 1966. But in their divergent political and ideological motivations on such crucial topic, they seem to be unanimous on the fact that this untimely putsch, betrays two axioms- "political instabilities and our underdevelopment".
Yet Adu Boahen (1975), the renowned Ghanaian historian and onetime professor of history at University of Ghana, argues that what is particularly significant about the coup is the fact that it was received with such spontaneous jubilation among all classes of
Ghanaian society- even Ministers in Nkrumah's own cabinet as well as some members of the CPP. But in what seems to be a failure to pin-point the Nkrumahists who supported the coup that derailed the course of our country's self-determination and perhaps its reunification with continental Africa, the late United Party traditionalist professes further:
"The jubilation for the coup and its universal popularity in Ghana must be sought first in the changes that occurred in the methods and principles that he had adopted during the first period; secondly, in the changes that occurred in his own character and personality, and finally in disastrous outcome of his activities- the economic, social and political fields during the second period of his post-independence rule from July 1960 to February 1966." By this it is inferred that Nkrumah became a convert to socialism as early as 1930s and early 1940 but refrained from putting it into practice during his rule from 1951 to 1960. This was to be revisited on the anniversary of Positive Action Day on 08 January 1960 and later, on the occasion of the opening of the CPP national headquarters on 02 April 1960, where Osagyefo hinted his intention of ushering Ghana into socialism:
"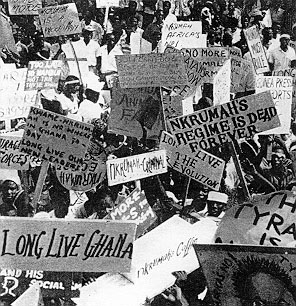 I personally cannot believe that all our efforts have been undertaken for the purpose of enabling a few persons to enrich themselves at the expense of the majority. For that reason, our approach to this new life shall be a socialist pattern of society and it shall be entirely Ghanaian conditions and circumstances." The offshoot of this speech led to the birth of African socialism ideology which metastases into Nkrumahism and eventually, conscienscism which appeared alien to the Ghanaian political vocabulary. According to Boahen this move, proved to be Nkrumah's first tactical mistake for the majority of his cabinet members, party officials and the rank and file of CPP and as result, split it into two: anti-socialist group led by people like Krobo Edusei, W.A. Wiafe, C.K.K. Baah and K.A. Gbedemah and the socialist camp championed by Kofi Baako and Tawia Adamafio.
There may be valid argument that Nkrumah's "political grave" was dug the very day he parted with United Gold Coast Convention. Yet the Osagyefo's rapid emancipation policy on Africa and its standing ovations at independence that might have been of less significance to the liberated Gold Coaster, who might have been struggling with her own historical animosities, subverted CPP's political fortunes. Boahen states further that even the socialist group, which was clearly in the minority, was further divided into scientific socialists, such as Kofi Batsa, S.G. Ikoku, Heyman, Adamafio, K. Amoako-Atta and T.D Baffoe, were opposed to the adaptation of Marxism to African conditions, and the African socialists like Baako and Kwaku Boaten who supported such adaption. "Nkrumah had to spend a great deal of time playing one group against the other to maintain party unity."
With such internal ideological squabbles, the Congo crisis, fast-approaching balance of payments crisis, perceived ostentatious lifestyles of some CPP functionaries, not forgetting Osagyefo's preoccupations on the African Unity project, it became obvious that politically, the CPP diagnosed itself terminal disease and was admitted to death bed at home. By April 1961, six CPP ministers of state including nobody but Gbedemah, Dason and Wiafe, have been fired in a dawn broadcast for being corrupt and demanded from others such as Edusei, Bensah, Korboe and Inkumsah to surrender part of their excess property to the state. The Osagyefo believed that the effort of CPP government was not to enable a few individuals to enrich themselves at the expense of the majority, hence the urgent call for socialism. But was he well understood by his own men in mind?
Indeed the CPP negotiated its eventual demise in 1966. Perhaps this observation from C.L.R. James (1982) might best illustrate this point. "In 1963 I had occasion to write to him of my concern at a second attempt to assassinate him: I implied that something was seriously wrong with a regime in which there were two attempts at assassinating the political head of state: I knew that in 1957 over large part of Ghana Nkrumah could have walked for days without single attendant. His reply to this letter I found most lacking in his customary political sense…. I was deeply disturbed about the way things were going….The continuous crisis in Ghana had reached a climax when Nkrumah dismissed his Chief Justice for giving a judicial decision which he disapproved… this act showed the degeneration not only of the ((CPP)) regime but of his own conception of government…."
The conception was that following the plebiscite of 19, 23 and 27 April 1960, Ghana became a republic and politically sovereign from the United Kingdom on 1 July 1960. So it had the legal might to determine its own constitutional future but as it shall be shown, this came with a price. For the purposes of this discussion, we consider Article 8 (1) of the Constitution- which established the office of Executive President. Although the first president was elected by the people in a referendum held in April 1960, the Constitution stipulated that all future Presidents, were to be elected by members of the National Assembly. Article 44 empowered the President to appoint and dismiss the Chief Justice who was the President of the Supreme Court and head of the judiciary. But by 1964, Article 1A of the Constitution has been amended, imposing CPP as a sole national party.
As Adigwe (1975) writes, although there was no formal Bill of Rights in the 1960 Constitution, the Constitution attempted to constitute the President ((and here, the Osagyefo)) into a sentinel of peoples' liberty. Thus while S.1 of the Constitution gave every eligible citizen of Ghana the right to vote without distinction as to sex, race, religion or political belief, S.13 (1) stipulated that immediately after his induction the President should declare solemnly before the people, his adherence to the following fundamental principles: For example, that the powers of Government spring from the will of the people and should be exercised in accordance therewith. That freedom and justice should be honoured and maintained, that the Ghanaian should receive her fair share of produce yielded by the development of the country and right to access to courts of law.
The institution and preservation of Chieftaincy was also guaranteed. Subject to such restrictions as may be necessary for preserving public order, morality or health, the President was to declare solemnly that no person should be deprived of his/her freedom of religion or speech, of the right to move and assembly together without hindrance. No person should be deprived of his property save where the public interest requires and the law so provides. The Ghanaian, it is argued, saw true liberty more in Nkrumah than in atypical aristocratic J.B., so the CPP continued to enjoy its electoral honeymoon- the celebrated one being the 1951 elections and the 1960 that hammered the last political nail on Dankwa's coffin. So, why CPP's hastily drafted constitutional amendments- the Public Order and Emergency Powers Act and Preventive Detention Act and the sudden political nervousness of ballot box, parliamentary supremacy and independent judiciary?
James- the then Secretary of West Indian Federal Labour Party, once invited by the CPP to Ghana to give the said thought-provoking talk on: "Imperialism and Underdeveloped Countries: Who are the Backward Ones?", has this revelation: "As usual most commentators seemed to believe that Nkrumah, an African inexperienced in the ways of parliamentary democracy, was drunk with the wine of power, and had once more proved the inability of Africans to govern except as some reactionary tribal chief in modern dress. I therefore wrote a long memorandum to Nkrumah about the continuing growing crisis in newly-independent African states. Unfortunately I never sent it- one has to be careful in relations with political leaders, especially leaders of new sates. But shortly afterwards I had occasion bitterly to regret that I had not sent him the memorandum."
Perhaps the shock came on the 24 February 1966. In the words of Boahen, shortly before 6.00am on that day a strange voice, later identified as that of Major A.A. Afrifa, asked Radio Ghana's listeners to stay by their radios for an important announcement. Later, Col. E.K. Kotoka burst on air with: "Fellow Ghanaians, I have come to inform you that the Military, in co-operation with the Ghana Police, have taken over the government of Ghana today. The myth surrounding Nkrumah has been broken. Parliament is dissolved and Kwame Nkrumah is dismissed from office. All Ministers are also dismissed. The Convention People's Party is disbanded with effect from now. It will be illegal for any person to belong to it. We appeal to you to be calm and co-operative. All persons in detention will be released in due course. Please stay by your radios and await further details." The Rubicon has been crossed- the future of Ghana and CPP is to be gambled.
On 26 February 1966, National Liberation Council allotted to itself the power to govern by decree. For the purposes of maintaining law and order, the junta, like the cited emergency laws legislated by the CPP and which attracted fierce criticisms, introduced a host of decrees many of which could still be found in our current Statute. The members of the Council were announced as follows: Lt-Gen J.A Ankra (Chairman), J.W.K. Harley- Commissioner of Police (Deputy Chairman), Col E.K. Kotoka (Member), B.A. Yakubu- Deputy Commissioner of Police (Member), Col. A.K. Ocran (Member), J.E.O. Nunoo- Assistant Commissioner of Police (Member), Maj. A.A. Afrifa, member and A.K. Deku- Deputy Commissioner of Police CID (Member). The NLC ruled Ghana until October 1969.
Boahen attributed this final straw to Nkrumah's imperfections- both at home and abroad. Heavens only knows but according Boahen, this drew nearer when, following the Kulungugu episode, CPP government started to expand the presidential company into a well-equipped battalion under Russian officers and as part of the Presidential Detail Department set up in 1963. Maj-Gen Ocran is said to have had his reservations and thoughts about the future of the armed forces which he was a member. These fears crystallised towards the end of 1965, when both Ankrah and Otu- most seniors officers in the armed forces, were asked to retire and the Osagyefo alerted the army that 'for the offensive operations in Rhodesia following the unilateral declaration of its independence'.
In sharing his concerns on this Afrifa- one of the architects of the coup had this to say: "The dismissal of our Generals by Kwame Nkrumah was one of the major factors that led to the coup of 24 February 1966. As a result of this action the Ghanaian officers and men felt that the profession of men-of-arms had been disgraced and that their Generals as well as themselves ad been humiliated." And on the prospective action in Rhodesia he wrote: "…From concern for my troops, I felt it would be criminal and purposeless to lead such an army of excellent soldiers ill-equipped to fight in an unnecessary war. Among our troops, Nkrumah became unpopular because of this. They realised that he was sending them to war without proper equipment and without adequate preparation. The moment they started complaining I knew that the days of the CPP were numbered."
From this hindsight, Jon Kraus (1966) may be right in his observation that: "While the recent military interventions elsewhere in West Africa and the absence of President Nkrumah in Peking may have influenced the timing of the coup, the frustrations and grievances were of long standing, and preparations had been under way for some time. Major (now Lieutenant) General J. A. Ankrah, who was selected to be head of the new government installed on February 24, justified the Army's seizure of power as a corrective to the faults of Nkrumah and the Convention People's Party, which he described as maladministration, mismanagement, the loss of individual freedom, and economic chaos." Nkrumah's alleged misdeeds, Ankrah told his audience, was the establishment of a "private army… in flagrant violation of a constitution which he himself had foisted upon the country, to serve as a counterpoise to the Ghana armed forces."
According to Adu Boahen, conditions in Ghana at the time revealed two basic political alternatives: either the assassination of Nkrumah or a coup d'etat. And it was only after many attempts on his life between 1961 and 1964 had failed that the second alternative was resorted to on 24 February 1966. Kraus, on the other hand states that the middle-ranking officers decided that the time had come for new architects of national policy. The said national policy was to destroy everything Nkrumahism in Ghanaian politics. Indeed, to overthrow a discredited regime, writes C.L.R. James, is a great political achievement. The CPP on its part radiated not only freedom and justice but also, work and happiness. So we may be inquiring about the extent to which it became discredited to the Ghanaian.
The 1966 military intervention led to the disbandment of CPP and all its linked organizations such as the Ghana Farmers' Council. While Kotoka was promising the release of the said political detainees, the NLC was gagging as many CPP stalwarts as it could lay hands upon. On foreign affairs, technical support from the Eastern bloc and China were severed. Pan-Africanism, according to Adigwe, became less promising as Ghana abdicated its status as save-haven for freedom fighters. Although Boahen argues that this was in compliance with OAU political resolution on refugees and that Ghana was perceived as a springboard for political insurrections on the continent- reference being the Togo's unrest that led to Olympio's death and the Nigeria's coup of 16 January 1966, it could be argued that the NLC's direct vengeance, set itself for future destabilizations.
Although Nkrumah's repeated Conakry Broadcast against NLC's obnoxious policies fell in deaf ears, in April 1967, an unsuccessful counter-coup was staged by Lieutenants Arthur, Yeboah and 2 Lieutenant Opoku, of the then 2 Recce, at Ho. Major-General Kotoka was to be tragically bayonetted by Yeboah in an unarmed-combat. By 02 March 1969, Ankrah had also resigned in connection with corruption charges, paving the way for Brigadier Afrifa to become NLC Chairman on 08 April 1969. From then on, yes, the great barrier in the way of grasping, of absorbing perhaps this simple but shattering new portent in contemporary history ((of Ghana and Africa)), as James forcefully put it some decades ago, has been the defensive reiteration by the leaders of British government "gave", "handed over" independence for which (God save us) it had long been training.
In our next article, we shall examine various policies designed by successive political forces- to tame, project or eclipse the CPP. So, we mention in passing that as usual, the overthrow was followed with bad press and numerous commissions- such as the Apaloo and Ollenu Commissions, mandated to probe Nkrumah and CPP functionaries. Then were the setting up of Centre for Civil Education that had Dr Busia as National Chairman and a sixteen-member Constitutional Commission, chaired by Mr Justice Akufo Addo- the then Chief Justice, who became the ceremonial president under Dr Busia on 01 October 1969. Hence the justifiable academic argument that technically, "Nkrumahist" Afro Komla Agbeli Gbedema was denied a level playing-field on the 29 August 1969 general election.
Indeed, we must not ignore Nkrumah's political misjudgements yet; he still has a cause to revoke his Will to the Ghanaian in anger, on hearing that Chinese are building Stadia and Dams in our country. Today, the CPP is still sick of ideological squabbles and faces extinction. But who has the relevant charisma to mend bridges, ideologues or reformers?
JusticeGhana.com/The OmanbaPa Research Group