Welcome

....to JusticeGhana Group
JusticeGhana is a Non-Governmental [and-not-for- profit] Organization (NGO) with a strong belief in Justice, Security and Progress...." More Details
Details

Parent Category: Africa and The World
Category: The World
Created on Thursday, 29 May 2014 00:00
Hits: 3992
labour
Where's the worst place to be a worker? Most of the world
A new index of employment rights makes grim reading and exposes the link between rights and inequality
David Wearing
The International Trade Union Confederation's (ITUC) Global Rights Index, which ranks countries on how well they protect employment rights such as freedom of association, collective bargaining and the right to strike, was published for the first time this week. The picture that emerges is a grim one.
Of 139 countries surveyed just one, Denmark, was found to honour all 97 fundamental aspects of employment rights as grounded in international human rights law. Rights violations were found to be no more than an irregular occurrence in just 18 countries.
In about 40% of states, rights were violated systematically or simply not guaranteed. In 53 countries, workers had been dismissed or suspended simply for trying to negotiate better conditions. Shamefully, the UK falls within the category of nations where people's workplace rights are regularly violated, alongside Sri Lanka, Tanzania and Venezuela, and below the category which includes countries such as Albania and Angola.
The index has the potential to become an extremely useful tool. Employment rights are fundamental to people's ability to secure a better deal for themselves within the capitalist system, or at least to protect themselves from the most egregious forms of exploitation. The ITUC's index will help to spotlight and apply pressure on governments that fail to guarantee these basic human rights.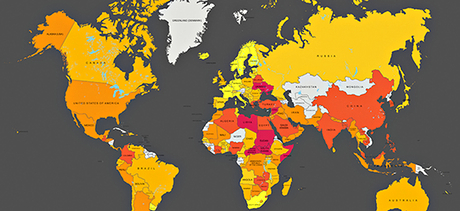 In addition, the data could help us develop our understanding of the extent to which workers' rights are linked to human welfare. At first glance it appears that if we compare like with like – for example, by isolating the OECD nations – we find that those with the best employment protections are often the least unequal (eg Denmark, Sweden and Norway) while those with the most violations are the most unequal (eg the UK, the United States and Portugal). As Kate Pickett and Richard Wilkinson showed in their famous book The Spirit Level, inequality is directly correlated to poor human welfare across a range of social indicators. It is likely that securing fundamental rights in the workplace would play a big part in combating inequality by driving up wages, and so in improving human welfare more generally.
One very important caveat, however, is that the results of the survey need to be understood in a global context. While individual governments must be brought to account, the denial of employee rights is also the product of relations of power that operate across national boundaries.
Many countries in the global south have effectively been coerced into concentrating on "flexible" low-wage economic activity by the states of the global north, not least through institutions such as the IMF, the World Trade Organisation and the World Bank. This downward pressure on rights and wages was a key element in provoking the Arab uprisings in late 2010 and early 2011, for example. To address the problems highlighted by the ITUC it is vital to challenge not only the behaviour of nation states, but also the exploitative dynamics inherent to globalised capitalism itself.
Source: The Guardian UK, 22 May 2014
---